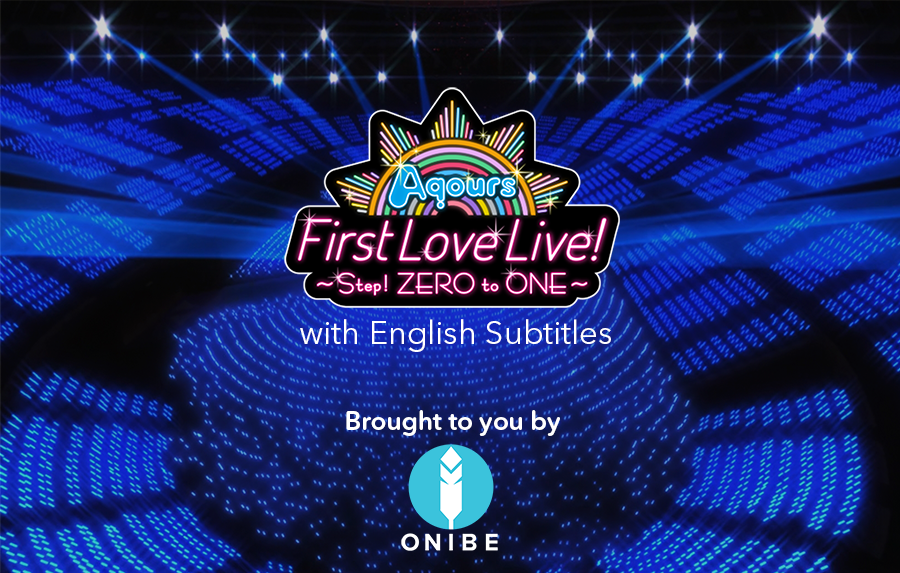 Team ONIBE proudly presents Aqours First Love Live! ~Step! ZERO to ONE~ with English Subtitles!
Can you believe it's only been ten months since Aqours took their first step and blew everyone away? Kick off your new year reliving the special moments from Aqours' first major solo performance!
Now you can understand what your favorite seiyuu are saying in this pinnacle moment of their history. Enjoy English translations of everything from entertaining MC banter to song lyrics, as well as full Romaji lyrics so you can sing along to your heart's content. For those who prefer viewing the song performances without lyrics, there is also an MC-only subtitle track included.
Our release includes the following from the Blu-Ray Memorial Box release of Aqours First Live:
Day 1 (Disks 1 and 2)
Day 2 (Disks 1 and 2)
Intermission Dramas 1 and 2
Behind the Scenes (Rehearsal footage)
Happy New Year from ONIBE, and thank you for your continued support!
1080p Download
720p Download
Subtitle Files (See Disclaimer below)
This is a non-profit fan translation. Please support the official Blu-ray if you enjoyed it.
Brought to you by Team ONIBE and Friends
Main Translation: Eli Ayase
Translation QC: Hoshi
Song Translation: xIceArcher
Song QC: shukamod
Rehearsal Translation: Dyrea
Timing / Typeset: Yunii
Styling: Eter, Yujacha
Quality Check: link2110, Chezz, ramen, Cornsplosion, Ippikiryu
Source / Encode: Naine
---
FAQ
Which day should I watch?
As described by Rikyako, you can enjoy the view of the entire stage in Day 1, while Day 2 has more focus on individual seiyuu expressions. Please check out both! (If you had to only watch one, we recommend Day 2.)
Will you release subtitle files so I can use them with the other existing First Live release and not have to re-download?
Update: The sub files are now available in the download link above.
Disclaimer: These sub files were timed directly to our encode. We are not going to provide support to re-time them to any other release. Feel free to adjust them to your source if you have the right tools, but we cannot promise the timing will fit perfectly.
Can I have your permission to use your subtitle files to re-translate to X language?
Yes, you can use mkvextract to extract out the necessary files. Please give credit where appropriate.
I see a bunch of weird video/subtitle issues.
If you are watching it with VLC, try using a different player, there are known issues with VLC. Try MPC-HC or mpv.
Will there be a 720p version?
Update: There is now!