Disclaimer: This guide was last updated on 2022/10/07 and all information can be assumed to be accurate as of that date.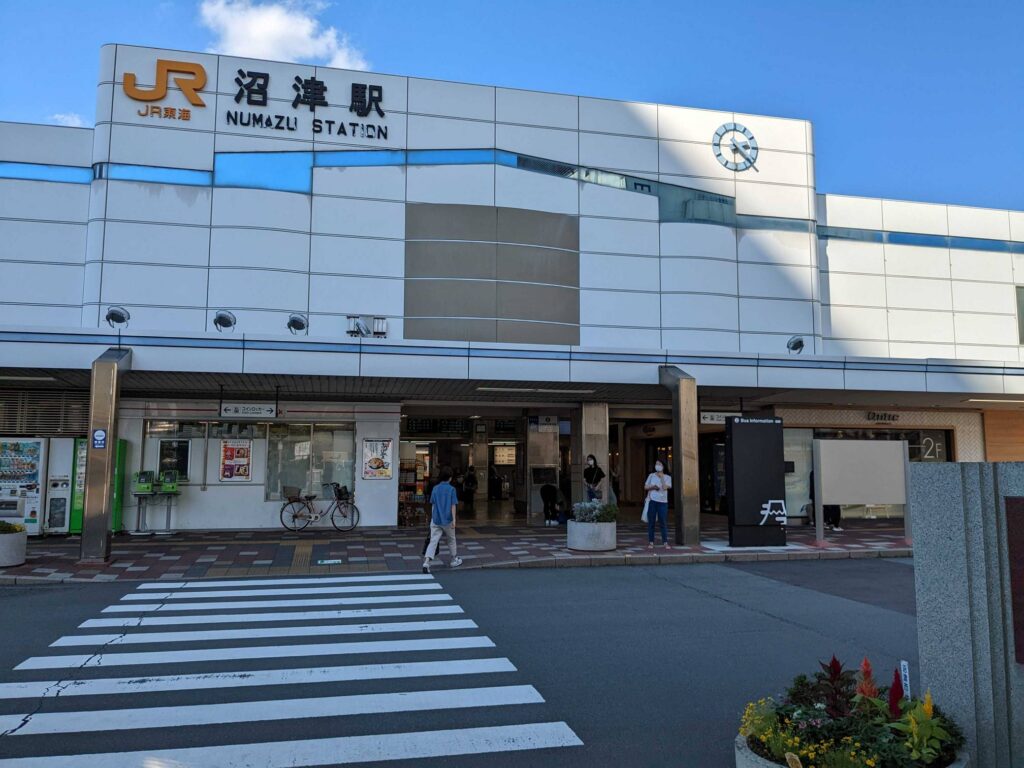 Pre-COVID, many international Love Live! fans would work to slot in a side trip to the small, port city of Numazu, located ~100km away from Tokyo so that they could experience the world of Love Live! Sunshine!! and Aqours with their very own eyes. Now that Japan is finally reopening, and fans are starting to plan trips to Japan once again, many people are eager to return to this small port city, or maybe even visit it for the first time. Hopefully, this guide will serve well for both returning and first-time visitors, giving everyone an excellent base to start off their trips.
A lot of the relevant information has been covered in the original guide by LuciaHunter, which I will encourage everyone reading this guide to read first as a base since I will also be frequently referring to it as well. Many things have changed since 2017, so I will also highlight any important changes that have happened as well.
Basic Questions
How long should I go?
Lucia's recommendation of 2 days 1 night is still a good start, but with the new locations added since then, 3 days 2 nights is a better base nowadays.
Assuming it's your first time visiting Numazu, you'll want to shoot for one full day in Uchiura, and at least one full day in Numazu, which should be enough time to visit all the major locations at a comfortable pace if you plan out your journey to match the bus schedules beforehand. Do not expect to be able to do anything at night, because most, if not all, of the shops, close by 5-6 pm.
Where do I stay?
Numazu
What better way to pilgrimage than to stay in the very city that you're pilgrimaging in? I recommend staying south of Numazu Station if possible if you're here to pilgrimage, because most of the locations are located south, and the trek to and from the north side takes a little bit of time on foot. If you have a car or a bike, then you're no longer limited by this restriction.
Numazu Grand Hotel is a solid option. It comes with free breakfast and was popular with visitors in the past. Numazu Riverside Hotel is also another good choice as the hotel is right next to Yohane's apartment, however, it is a little bit further from the station, which might be an issue if you're bringing lots of luggage. In any case, any hotel south of the station should be mostly the same experience, so just pick and choose based on price (and maybe amenities if you're particular about those).
Airbnb is technically also an option for Numazu, but nowadays, there are barely any left in the city, so I wouldn't recommend them unless you really need to use an Airbnb for whatever reason.
Uchiura
In Uchiura, your options are a bit more limited. The obvious choices are going to be either Yasudaya Ryokan, which is Chika's house in the anime, or Awashima Hotel, which is Mari's house. Other than that, there are also a couple of other ryokans (traditional Japanese inns) in Uchiura, which are all possible options. Do note that you're going to be spending upwards of 15,000 JPY per person per night in one of these ryokans, so it will be much more expensive to stay in Uchiura than in Numazu. Or if you're feeling even fancier and want to book Mari's suite in Awashima Hotel, that will cost you… 112,400 JPY per person (for a room for two). Also, many of these ryokans/hotels won't show up on most online travel agent sites, so always check out their websites first if you'd like to book.
Yasudaya Ryokan
Make reservations on their website (Click on 宿泊プラン at the top to go to the reservation page). Filter out your choices at the top, and then the page should show you a summary of all the room and board plans that they have, and the cost per person. Click on the button next to the # of people for your chosen plan, and it'll show you the available dates (if you didn't filter by date), after which you can continue with booking. Note that you cannot book Yasudaya as a solo traveler, so if you're going alone, you'll have to pay up for two people in one room.
Awashima Hotel
Make reservations on their website (Click on 宿泊予約 at the top to go to the reservation page). You can then filter out by plan or by date, and then choose your selected room and meals. Generally, Awashima is blocked off one to three days a week (usually two, sometime between Mondays and Thursdays), so watch out for that if you're planning to visit on a weekday. Also, rooms are usually open for booking two to three months prior, so if you don't see anything available and your trip is much further out, check back again later.
If you're interested in booking Mari's room, they have a separate page for that!
Mishima
You could also look into staying in Mishima, which is the station right next to Numazu. It's also a stop on the shinkansen, so it's a bigger city than Numazu, which could be helpful if you're traveling during major events and all the Numazu hotels are already booked out. However, it's way more inconvenient to have to make your way to Numazu if you're there for a pilgrimage, so I wouldn't recommend this unless everything in Numazu is already booked out.
Shuzenji
You're probably going, "Huh? What's this place and how does it relate to Love Live! Sunshine!!?" Well, Shuzenji is the southern terminus of the Izu-Hakone Line, sitting southeast of Numazu. As a pilgrimage location, there are a few locations nearby, such as Niji no Sato, Kano Dome (My Mai locations). But as a place to stay, Shuzenji is one of the most famous onsen (hot spring) towns in the area, so if you're interested in relaxing somewhere while still staying close to pilgrimage locations, it's worth looking there.
When should I go?
The equivalent section in Lucia's guide is still relevant today, so I recommend following the advice he gives in that section.
Where should I go?
Love Live! Sunshine!! Location Map (Updated until S2)
Movie Locations (in JP)
Genjitsu no Yohane Magazine Spreads
Find our Numazu Locations
There's no shortage of locations to visit in the Numazu area, and the links above should give you a good list of targets to start off your trip. Unfortunately, I couldn't find a comprehensive map of all the relevant locations, including some of the more niche ones featured in Aqours CLUB/other magazine data, so if there's a better map/post available with locations that I'm missing, please let me know and I'll add them here!
If it's your first time visiting Numazu/Uchiura, I would suggest focusing on what's near the station, the harbor, and Uchiura. There are enough locations to keep you occupied and you won't feel lost at any time. Beyond that, feel free to trawl through the list of locations above, and determine for yourself what you're interested in, then make your way over to them if you have time.
One important note is that some of the locations featured have closed in the last few years, so watch out! Off the top of my head, Marusan Bookstore, Dipper Dan Numazu and Ishibashi Plaza north of the station (which used to have collabs) have closed. If there are any others that I've missed, feel free to let me know and I'll add them here.
How do I get there?
Unfortunately, HyperDia is now limited in functionality and is no longer very useful for navigation in Japan. The closest replacement that I've found is Jorudan, where you can enter a starting station, ending station, and departure/arrival time, and it'll show you a list of relevant routes. If you're going by train, then you can just follow the route it feeds you as-is, and you should be perfectly fine.
Shinkansen
A trip from Tokyo Station to Numazu Station via shinkansen will take around 1 hour and will cost you 4,600 JPY (with a reserved seat). If you're strapped for time, this is the fastest option available. At Tokyo Station, look for the "Tokaido Shinkansen" platform, and board any Kodama or certain Hikari trains. If your train stops at Mishima, then that's where you'll disembark, make your way over to the local train area, and switch to another train for Numazu (one stop away). If not, get off at Atami, and switch trains there instead.
Local Train
A trip from Tokyo Station to Numazu Station via local trains will take 2-2.5 hours and will cost you 2,310 JPY. At Tokyo Station, look for the platform titled "Tokaido Line", and board any train bound for Atami, at which point you'll have to disembark, switch platforms, and board any train going further west on tracks 2 or 3 (Any train bound for Numazu, Shizuoka, Hamamatsu are fine), which will then take you to Numazu Station.
There are some trains from Tokyo Station that will go directly to Numazu, so if you happen to come across one of them, feel free to just ride it all the way to the terminus. The full schedule is here, and you can see the trains that go directly to Numazu marked with 沼.
While taking the local trains can be a bit slow compared to the Shinkansen, it's worth doing so at least once. You can feel just like the girls when they're traveling to and from Tokyo, stop by Kozu and Nebukawa, important locations for Love Live! and Love Live! Sunshine!!, and also catch the breathtaking sea view on the stretch from Odawara to Atami.
Highway Bus
Some companies also run highway buses that go from Tokyo/Shinjuku Station all the way to Mishima/Numazu Station, specifically Tokai Bus and Fujikyu City Bus. There's even a direct bus from Haneda Airport to Mishima Station. I'm not too familiar with these buses and have never taken one, so I can't help if you're interested, but feel free to look through their pages (GTL if needed) and check it out if this is a mode of transport that you're interested in.
Car
You could also rent a car in Tokyo and then drive down all the way to Numazu. I've never done this, but from what I've heard, the journey will take around 2 hours, and the toll will cost around 3,500 JPY. Check with your hotel if they offer parking (they should), but if not, there's plenty of paid parking available around the area. It might not be economical if you're traveling alone, but if you're with a group, it's definitely a good option to consider.
How do I get around?
The equivalent section in Lucia's guide is still relevant today, as is sicxer's guide that's linked there, so I won't restate the information provided there. But, there is one positive change that has happened— you can now use IC Cards (SUICA, PASMO, etc.) on all buses. Gone are the days of fumbling around with the paper tickets, trying to determine how much you need to pay, and rushing to get change before dropping the coins off as you exit. Note that you still cannot use IC cards on the Izu-Hakone Line, so be prepared to buy paper tickets if you're considering taking the collab trains.
You can also rent a car in Numazu— with a group of three or more, it's much more affordable and can be even more economical than bussing around if you're planning on visiting many places. It also helps a lot if you're planning on visiting many of the more remote areas, such as Nishi-Izu Skyline Parking Lot, Shuzenji Niji no Sato, and so on. I would also strongly consider renting a car if you're planning on staying in Uchiura multiple days since you'd have to take the bus to and from Numazu many times otherwise, which can be annoying with the limited bus schedules.
Other useful links:

Izu-Hakone Collab Train page (and schedule)
Izu-Hakone Collab Bus page
Tokai Bus Collab Bus page
Location Reviews
Lucia's Location Reviews
ClawofBeta's tour
Oveldas's report
Adurnah's report
Noctus's 5L Trip Report
Crunchyroll's Uchiura report
I've linked a couple of good pilgrimage reports available in EN, where you can see what others have thought of some of the more popular spots. Those people have described those locations much better than I ever could, so I'll be featuring some less popular spots here.
Numazu
Kanan Sweets Shop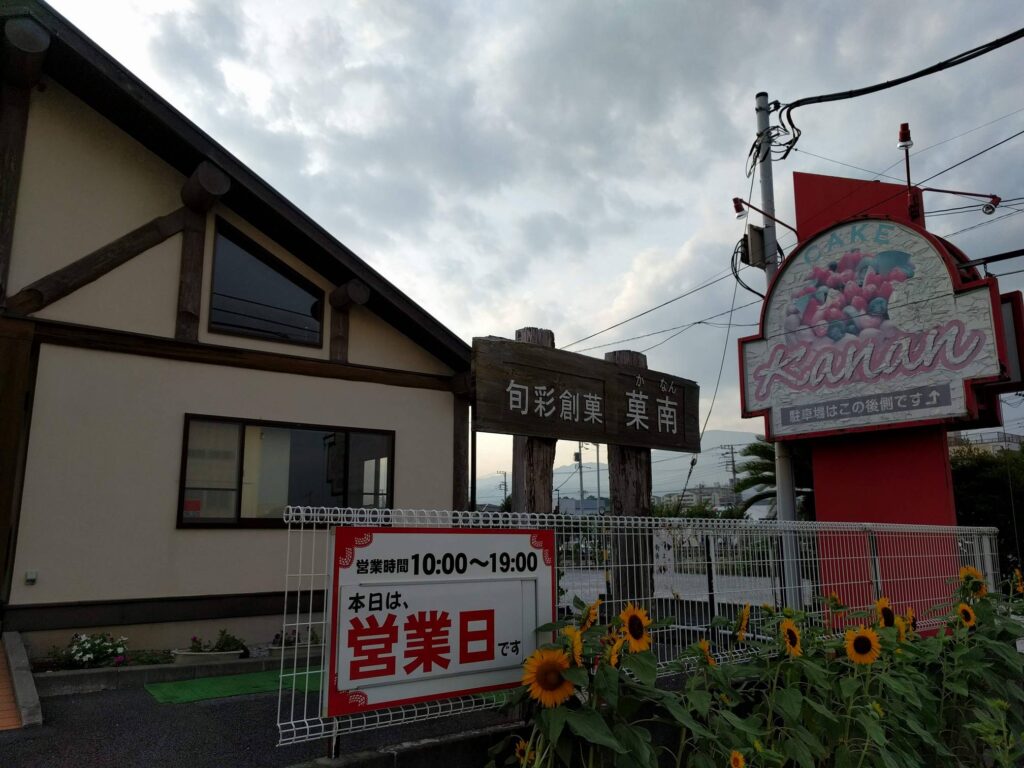 Featured in DIVER May 2017. Best accessed by bus, car, or bike. As you'd expect from the name, they've got a lot of Kanan merch within the shop, which was mostly gifted by fans, I believe. They've also got a killer Torokeru pudding, so give it a shot if you're paying it a visit!
Fun fact— I stumbled on this location while trying (in vain) to bike to the location of the old LLSS Premium Shop by the highway and giving up halfway. Now, it's a mainstay for me, and I'll always try to visit if it's open!
Ayutsubo Falls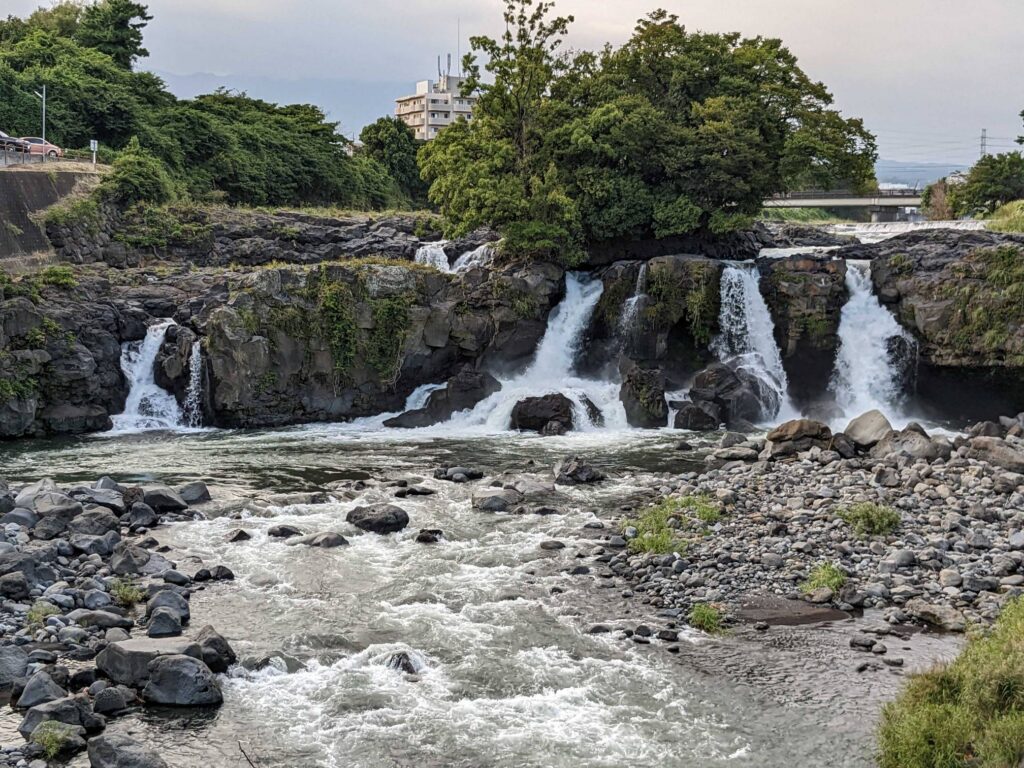 Featured in Love Live! Days vol. 31. The easiest way to get there is to take the JR Gotemba Line two stops to Shimo-Togari, then walk a short distance. The area is quiet and pretty— a good place to view nature if you're looking for some greenery. Kadoike Park is also nearby— while not explicitly featured (yet), it's a nice place to sit down and enjoy the breeze on a cool day.
Kanukiyama Park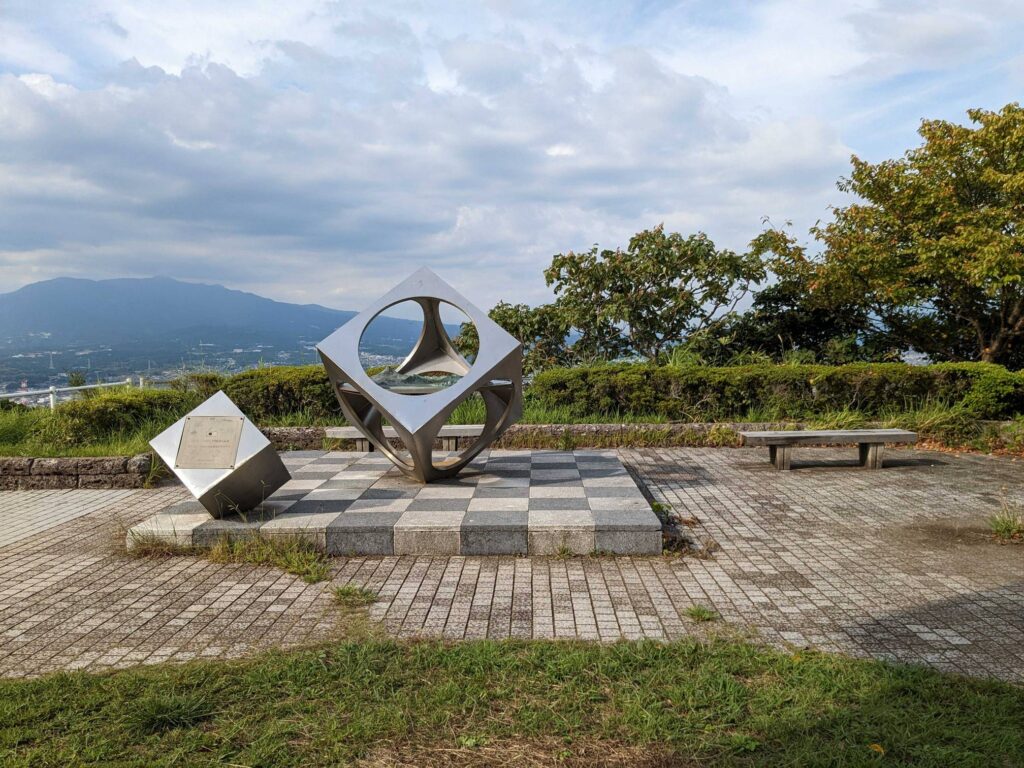 Featured in Love Live! Days vol. 14. Be prepared for a hike if you're interested in visiting this location— it's up a tall hill and also a decent distance from the city center. But the view is very much worth it. You get a bird's eye view over the whole city and even Awashima to the side.
Kakita-gawa Springs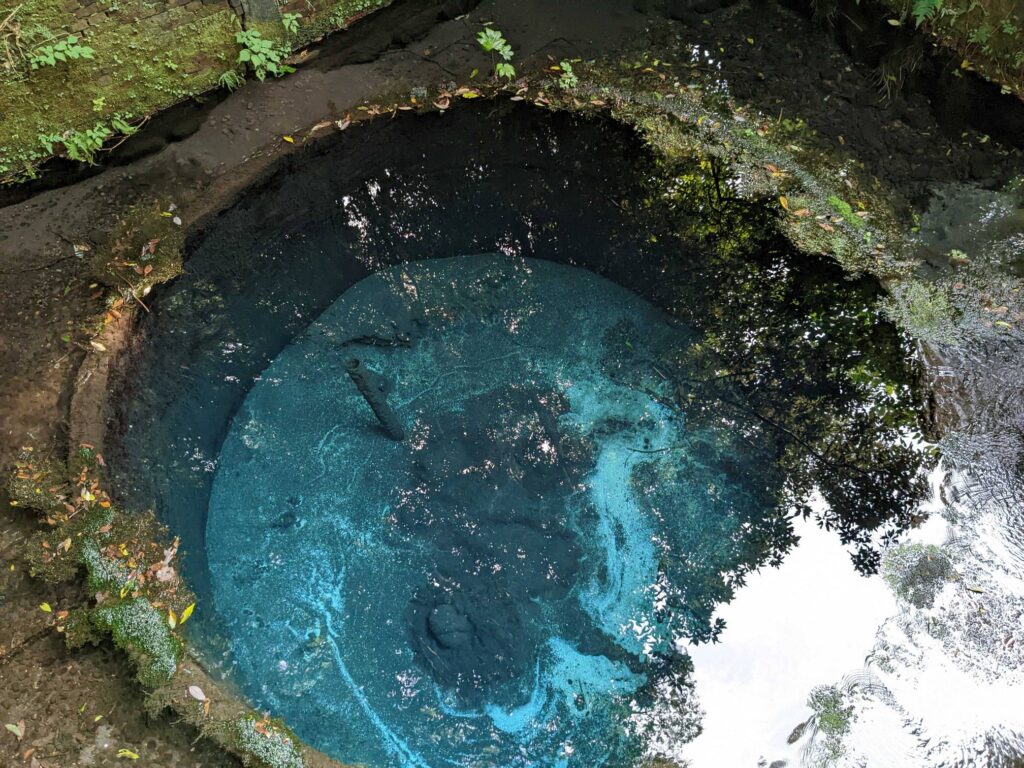 Featured in Love Live! Days vol. 20. It really is blue! There's a park here that's nice to walk around too, so it's also a good place to relax your tired legs (if you decided to walk here for some reason). Best accessed via bus or car. Biking here is possible, but be prepared to go through narrow roads on the way here from Numazu.
Outskirts
Izu no Kuni Panorama Park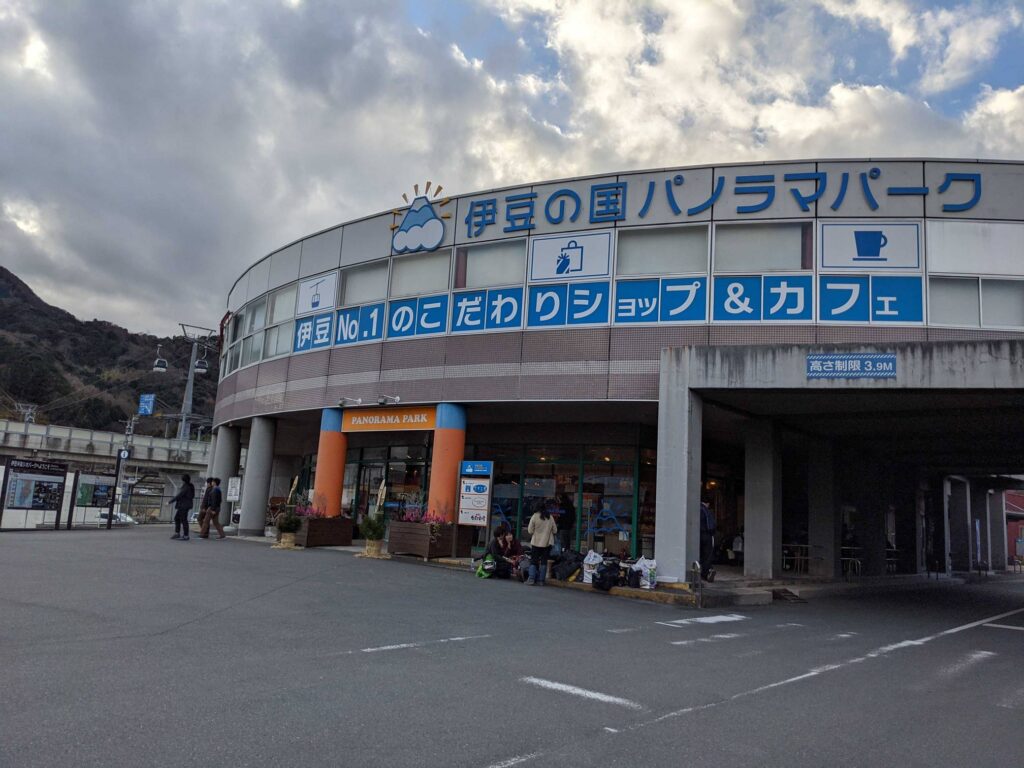 Featuring the ropeway which the 3rd years took in their childhood to go look for shooting stars in Season 2 Episode 10. Unfortunately, I didn't have time to go to the top, but if you have time, the view looks like it would be really nice from up top. Check out the website for more details. It's accessible on the bus route from Izu Mito Sea Paradise and Izu-Nagaoka Station.
Kano Dome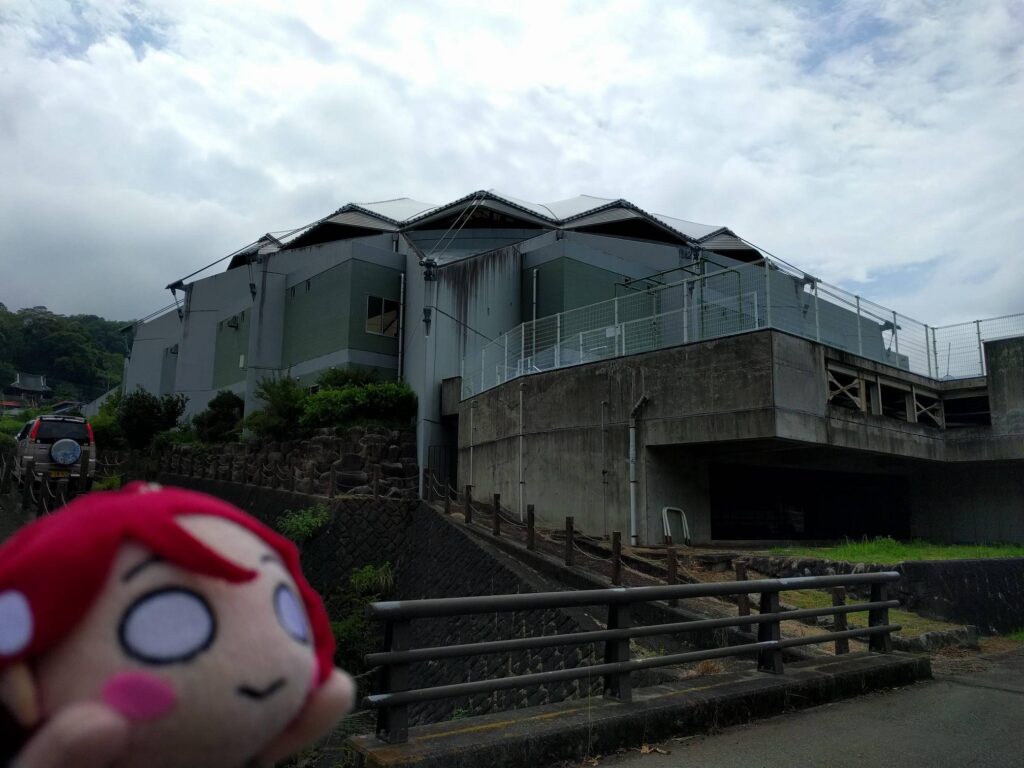 The location where MY Mai☆TONIGHT was performed in Season 2 Episode 3. It's pretty far off the beaten track, requiring you to take the Izu-Hakone Railway down to Shuzenji, the southern terminus, and then take another bus from there down to the Dome area. The area isn't exactly anything special either, so I wouldn't recommend it unless you're a hardcore completionist or you really have a lot of time to kill. But if you do, you'll get a feel for just how far Aqours had to run when going from here back to the school for their second performance. It's really impressive that they managed to perform properly after all that.
Shuzenji Niji no Sato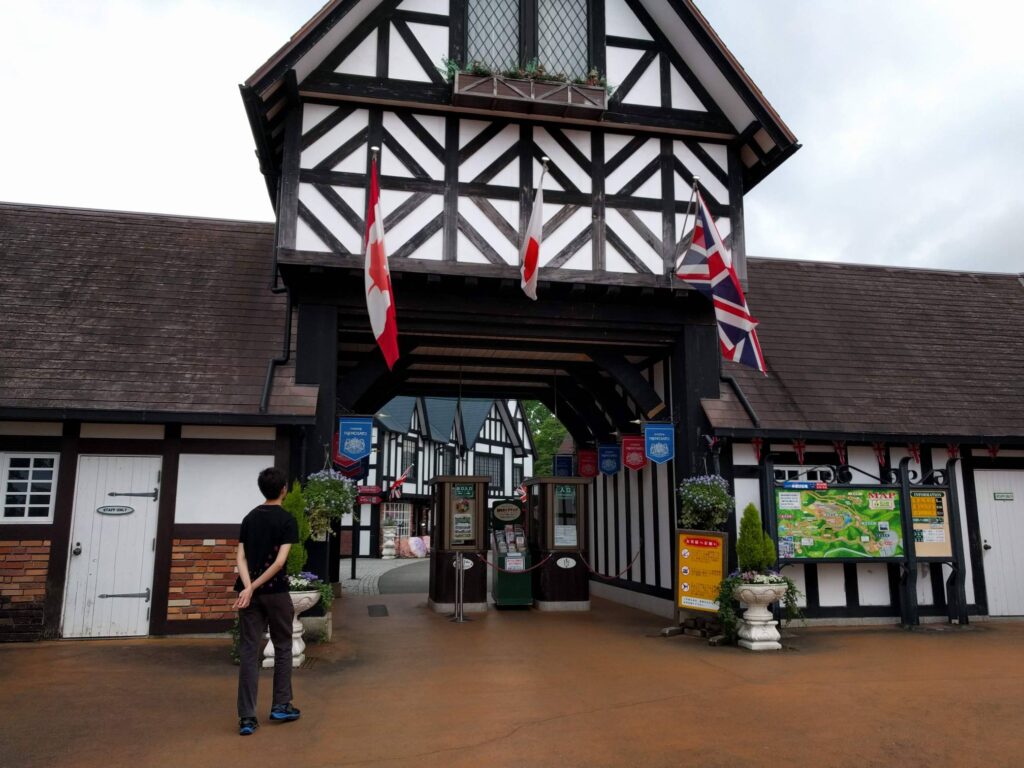 The theme park with Victorian-style architecture which Aqours runs through on their way back to the school in Season 2 Episode 3. You'll need to take a bus from Shuzenji Station, or drive up here. Unfortunately, I showed up right around closing time, so there was really nothing to see, but it does look like an interesting place to walk through if you get here early enough.
Nishi-Izu Skyline Parking Lot
The parking lot where Mari drives Aqours to, and they spend the night here in Season 2 Episode 10. Unfortunately, I don't have any pictures of my own that I can share, since we drove up there when it was pitch black (just like Aqours????). There's zero light pollution here, and it's a great place to relax and watch the stars if you can survive the drive up here, which should take around 35-45 minutes from Uchiura. It's definitely a good experience if you're looking for something new.
Stamp Rally
Once again, I'll just link Lucia's guide for this part. As of September 2022, the stamp rally is still running, and you can still buy the stamp books in various stores around town (now with a new movie design available). If you're not sure where to go for a pilgrimage, then following the stamp rally is a safe way to start too. You could even become the proud owner of a couple cool can badges too!
FAQ
Here are a couple other answers to questions I've seen people ask in various places, so if one of your questions hasn't been answered yet, hopefully this information will be helpful.
Do you need a reservation for the Sun! Sun! Sunshine Cafe, like the collab cafe in Tokyo? No, you don't! You can walk in at any time you'd like.
Personal comments
As of 2022/10/03, I've visited Numazu a total of five times across all my trips. My first trip was during 3L, between the Saitama and Osaka legs. It was a classic pilgrimage tour with a relatively big group (11 of us I think?), and we sped around various locations visiting as much as possible in rented cars. But since then, my Numazu trips have all been much slower, and I've mainly just been exploring different parts of the city on bus/bike that I've been curious about, regardless of if it has any anime ties or not.
Of course, every traveler is different, and while some might want to meticulously visit every single location related to the franchise, others might be content just focusing on a few places and relaxing in the city, while others might even be happy just stopping by for a day trip! But one thing's for certain— I think that the city is worth visiting even if you're just a casual fan of Love Live! Sunshine!!. It's just really cool to see places and realize that you've seen them in the anime and remember exactly what happened in certain areas. It immerses you even further into the world of the series, and as a multimedia franchise, I'd argue that the Numazu experience is an important part of enjoying the series too.
And even if you're not that interested in pilgrimages anymore (maybe after doing it once or twice), I find that the town is a good place to sit back and relax away from the hustle and bustle of big cities like Tokyo. Even during peak travel periods, it'll still be a lot quieter, and you can always find a place to chill while you're there. There's much more to the town than just the anime-related locations, and there's always hidden gems to discover.
Finally, in the words of Lucia, "So if you ever get the chance, please, please make a trip down to this small town. It'll help you come to understand how the girls are living day to day, why they are so frustrated with the place, and yet at the same time still so in love with it. And maybe, you might just come to love it too."
Contact info
Questions? Comments? Suggestions? Feel free to hop onto the /r/LoveLive discord server or contact me:
Twitter: @dyreatic
Discord: Dyrea#8951
Reddit: /u/bobishere123456